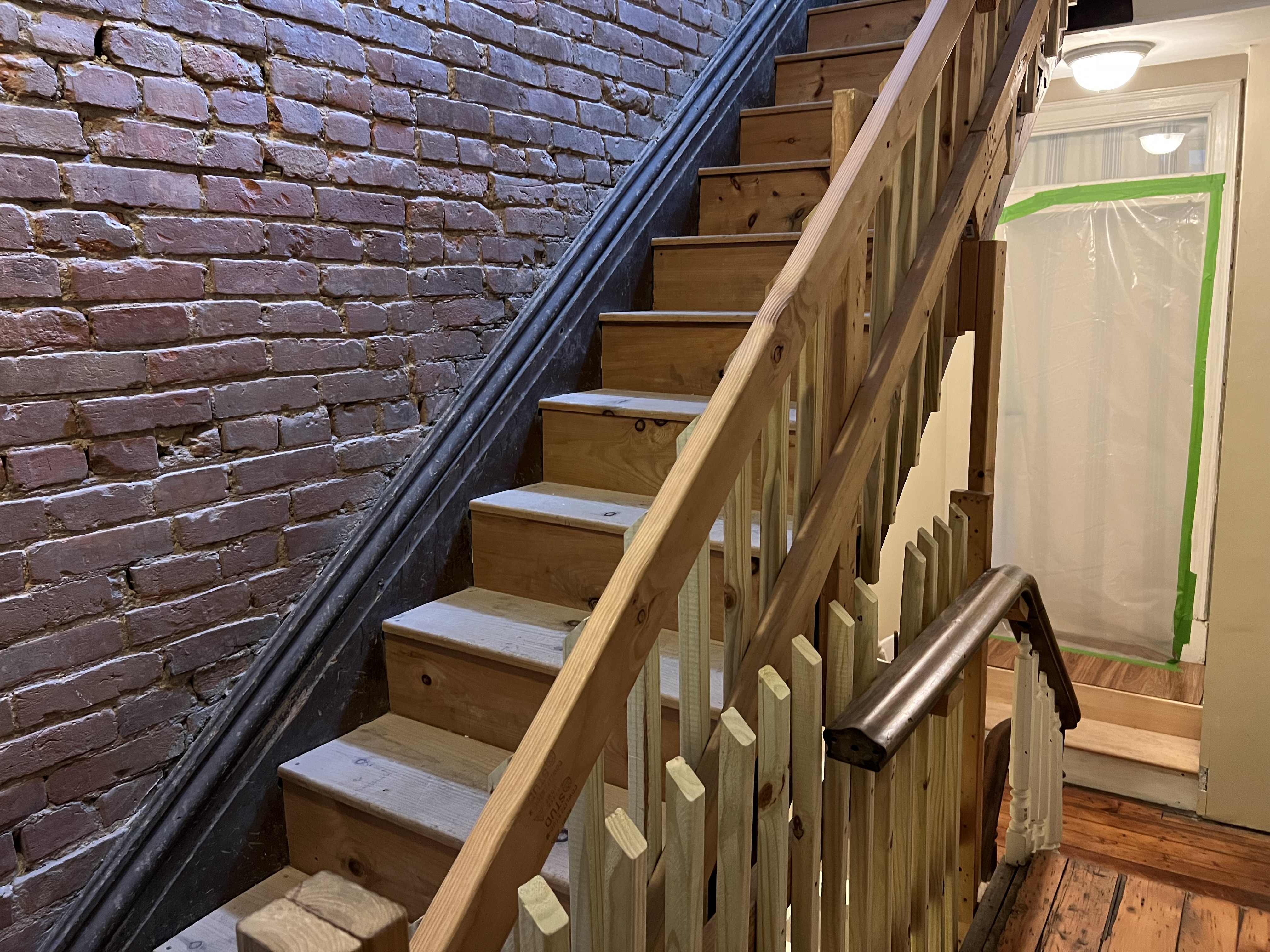 If you live in Pittsburgh, there is a good chance you live in an older home - from Sewickley to South Hills to the Mexican War Streets. Many are 100 years old or more!
And if you do, you know these homes can be a labor of love. Many have incredible architecture and design that you'll want to restore, including staircases. But is it worth it to restore or just rip out and redo? Luckily, historic home and staircase renovation is something we're very versed in.
Check out this video and testimonial on a 100-year-old home remodel we recently completed.
But to begin, let's start with a visual - you're looking at the old carpet on some sturdy but beaten-up hardwood stairs. Do you rip them out? Refinish them? What are the labor costs for each? Is it a good idea to attempt a brand new staircase or leave the existing staircase?
See a staircase renovation we just completed here.
Getting started: staircase makeover
The first thing you'll want to consider is your budget and the costs of ripping out and rebuilding the stair parts versus restoring what you currently have. Also, are you looking to remove/repair the full staircase or just a part of it? In most older homes, as long as they've been lived in and minimally up-kept, chances are even if they look beat up and well worn, the hardwood is solid and can be stripped down and refinished to look brand new. If you'd like to start that conversation with us,
click here.
What to consider in your remodel
Are you going to keep and restore the stairs to their original look and appeal? Finding parts and pieces to repair missing wood or trim boards can be challenging. The stairs can be the focal point in an older home, and while it may sound great to fully restore it, sometimes a new look and adding some modern staircase features can be both time and cost-saving.
Current trends can have a big impact on the style of your home without taking away the original design. Such as adding in a new railing, a stair runner, a glass balustrade or two, and/or even concrete finishes. Another option and usually a great way to change the look of your stairs is to remove the carpet from them, or if they're bare, add a carpet runner.
See some of our home renovations with stairs here.
Types of Staircases
Yes, there are multiple types of staircases, but let's start with the main ones. The type of staircase you have can affect pricing and budgets.
U-shape
or switchback stairs are a form of straight stairs that feature a 180-degree turn (or U-shape) at a small landing located between the two parallel flights of stairs, hence the name. U-shaped stairs are common in commercial buildings because they don't take up a lot of space with their narrow design, but you'll find them in residential homes as well as in open, modern, design layouts. However, U-shaped staircases can be difficult to build and require additional support (meaning higher install costs).
One of the most common and popular staircase configurations is
straight staircases
. These are functional and simple designs for most homes. Straight stairs flow directly from one floor to the next with no turn or landing platforms.
These are commonly confused with
L-shaped staircases
-- sometimes referred to as 90° Staircases or quarter-turn stairs. However, where straight stairs continue uninterrupted from one floor to the next, L-shaped stairs turn at some point in a different direction, typically with a small landing platform. As the name states, the turn of the staircase must create one singular 90° turn. These can provide a dynamic appearance that looks cool, and add privacy with a visual barrier.
Much like Curved Staircases,
Spiral staircases
make complete turns without the interruption of landing platforms. While curved create turns and stops (or landing platforms) Spiral stairs actually make a full circle. These are great for small spaces and can be very easy to install. However, they are not always the most practical, especially in high-traffic parts of the home.

Top Mistakes
Designing beautiful stairs is more than just nailing a few planks of wood together. Here are a few mistakes that we see happen with clients who ask us to come and fix them. The best option is to hire a professional who has expertise and experience in stair builds.
1. Incorrect Installation of Balusters
If your staircase has balusters or spindles (these are vertical posts that connect the base rail to the handrail), you want to make sure they do not end up uneven or crooked. You'd be surprised how often this can happen. Also, you shouldn't see any nails - a true professional craftsman will know how to support the area so these are not visible. Pro tip - also be sure balusters are painted prior to installation.
2. Moving the Stairs
You've seen it done on endless home renovation shows, so how hard could it be to move your own stairs? Yes, it is possible to do, but be prepared for the price tag - these are costly projects and they don't usually discuss the price tags on television. Many of these shows' goals are to create the dream floor plan no matter the cost. But stairs are structural and integral in homes, so if you're dedicated to moving the stairs, be prepared for a higher-end budget.
3. Not Embracing Storage Potential
Remember Harry's room in Harry Potter? While cruel, they were utilizing their stair storage space to their full potential. While we don't recommend housing children under them, they are great spaces for built-in cubbies or a custom-made bookshelf. A lot of homeowners let this storage go to waste, so if you're redoing them, think of the potential below them as well.
4. Trying to take on the project yourself
The first mistake when renovating stairs is not hiring a professional. At least have a local contractor come in and assess your home and give you a budget and timeline on what to expect so you know what you're getting into. And also, be sure to vet your contractors first! Professionals will have references and pictures of previous jobs, but it is your job as the homeowner to research and request previous work. Want to take a look at ours?
Click here.
------------------
Designing your dream staircase shouldn't be complicated or frustrating. Here at J. Francis, LLC, we pride ourselves on beautiful and professional staircase builds and redesigns. We provide every client with the information and support that they need to create their ideal project. If you have questions or you're ready to get started on your staircase today,
reach out to us here.